- By Maureen Baraka Bonfante
We need it. We can't live without it. Running! And, of course the rain. But for many the combo is like oil and vinegar, requiring too much effort to get the two to blend and stay blended for a successful run.
How can you run with "Kelly Feet" as you do on warm sunny days?
And, not feel like a blade runner hanging on for life on the edge of a wet beam?
Be  Prepared!
Understanding Weather Conditions: "Is It Safe?"
Even the most diehard runners will agree that safety is first and foremost in deciding weather or not to run in extreme weather conditions. If there is a chance of lightening strikes, flooding, strong winds or heavy rains that can impede visibility or make roads or trails unsafe, skip your run or delay it until conditions improve. If the rain poses no threat you can make the most of it by doing the following:
Dress Appropriately: Keep it Light
Avoid wearing thick cotton or other fabrics that hold water like a sponge which can weigh you and your bottoms down!
Instead wear clothes made of
high performance fabrics
. If you don't have any wear lightweight cotton or synthetics that hold the least amount of water.
If you want to keep more water out try wearing a light weight rain poncho. Many when folded are compact enough to fit in a fanny pack. With prices ranging from under a dollar and up it is not a bad investment. Some drawbacks of wearing a rain poncho; it can get in the way as you arms swing and legs fly and it can get hot in there as you body's heat can't dissipate well. 
You can wear
a light weight wind and waterproof jacket
or
rain jacket
with vents. Prices generally range from $30 and up. In either case you want to make sure you wear a lighter top underneath so you don't get too hot.
I prefer to run with just a performance tee shirt. A long sleeve one when it is cooler outside. I don't mind the rain. Being soaked from sweat, rain it is all the same. I usually carry an extra tee. The performance ones can roll up tight and can fit in my 12.5" x 6" x 4"
waist pack
. They run from $7 and up. You can also carry an extra one in a small
running backpack
$35 and up.
Waist packs and running backpacks are great if you need to carry more than keys and/or wallet. A cheaper alternative is using a drawstring backpack. Every household has at least one received as a promotional item from a race, work, conference or other event. If it is not the waterproof type, put your things in a plastic or large freezer zip lock bag first. (Tip: to keep the bag from flip-flopping around as you run pull the ends of the draw strings to tie around your front. If they are not long enough to tie around you can extend them with shoe laces, a bandana, etc.). Another option is using small
children's backpacks
.
Mommies if you have little one's who fuss a bit when you try to go out for a run while they stay behind with daddies, other relatives, friends or neighbors, think about asking them to lend you their little backpacks, "so mommy can carry her things." Make them feel as if they are contributing and being a part of your running time in some way. Let them know that you will think of them and feel inspired by running with it. If you are not a mommy don't worry no one will tell.
Head Gear
I like to wear a bandana to keep sweat from dripping down my face, neck or into my ears on sunny days and found wearing one under a cap helps keep my head drier on rainy ones.
Wearing a cap with a good size brim can keep rain away from your eyes, improving visibility. If you can get a waterproof one that is ideal, or you can sport an umbrella hat like Bruce Almighty.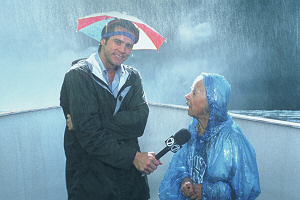 Covering up the Lower Limbs
Moving on to lower body cover the questions are, "To be or not to be wearing shorts?" if it isn't cold, short shorts versus other leg gear and using Vaseline.